About the Club
Selby Shotokan Karate Club is a not-for-profit, volunteer run, welcoming, family friendly club that was founded over 50 years ago.
Our instructors are volunteers - they put in countless hours of their own time purely for the love of karate, and their passion to engage with students and pass on their knowledge and experience.
We keep costs as low as possible to make karate as accessible and as affordable as possible for as many people as we can.
Our aim is to provide high quality, traditional Shotokan karate - within a welcoming, supportive, family friendly environment. Our members range from 6 to well into their 60s, and it's this breadth and richness of personalities that is the strength of our club.
While we have the structure, the affiliations, and access to instructors and resources to give students all the opportunities they could dream of, we appreciate that the vast majority of our club members are not professional athletes.
To most of our members karate is a hobby, and a passion. People train for a wide range of reasons - fitness, health (mental and physical), a challenge, to win medals, to build confidence, and much more. Regardless of why you're here, we will support you all the way.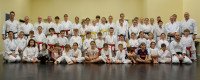 Club history
Selby Shotokan Karate club was founded in the 1960s and was set up by the late Gordon Thompson Sensei. He was a leading light in the UK's early Shotokan days, and created the beginnings of the karate family we're all proud to be part of.
Sensei Gordon Hopwood took over in 1973, Henry Callicott in 1979 and then our Sensei Steve Cook in 1981. Steve still trains with us on occasions and it's always an honour to have him in the Dojo.
More recently the club has been run by Paul Brant Sensei (4th Dan) who, over the years has done a fantastic job modernising, and reinvigorating SSKC - and building the strong foundations we benefit from today.
Since the middle of 2021, Paul Sensei has stepped back a little, and is in the process of handing over the reigns to the next generation to look after. We all feel the great responsibility of our club's long history on our shoulders and will continue to grow and develop the club, maintaining our focus on excellent karate - as our founders would have wanted.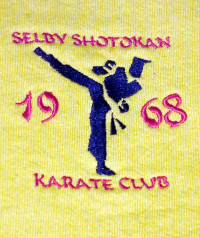 2021 Training Fees
As a volunteer run, not-for-profit club we can keep our training prices low.
Training Costs