Social & Family Occasions
Kangeiko
Kangeiko (寒稽古) means 'cold training' and is a traditional annual event that many Karateka undertake in the Winter or New Year to invigorate their training and set themselves up for a positive year.
We meet up with our friends from Haxby Shotokan Karate Club and Kaizen-no-Michi Karate Club in Grimsby early in the morning while it's still dark. Typically we warm up, have a short run to get the blood flowing, then an hour of karate on the (often frozen) beach.
As a reward for this madness we then swing by a local cafe for a nice cooked breakfast and hot cup of coffee, then head home. It's a fabulous experience that really bonds those that attend.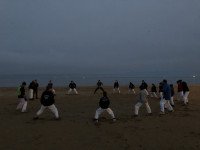 Bears on the Beach
Most Summers we again get together with our friends from Haxby Shotokan Karate Club and Kaizen-no-Michi Karate Club to have a day of fun on Cleethorpes beach.
There are normally a handful of short karate sessions (which are great fun on the sand - lots of throwing...), but it's mainly a day to get together, play games, eat a picnic and chill with our karate pals.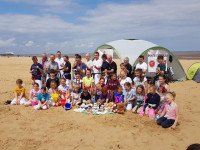 Christmas parties
We have been known to host the occasional Christmas party for our younger members. It's also a great chance for the grownups and parents to meet up out of the Dojo.
As you'd expect, there's dancing, games, lots of sandwiches, crisps and sausage rolls, and if the kids have been very good, perhaps even a visit from Karate Santa himself with his sack of treats.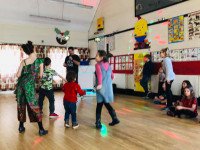 Ice Skating
Excellent danger factor and injury potential, the annual Selby Shotokan Karate Club Ice Skating session is not to be missed. To be fair it normally involves a handful of show-off naturals whizzing around while the rest of us cling on to the barrier, or each other for dear life.
There's always the massive hot chocolate with marshmallows to look forward to afterwards.
Adult social
We're not averse to the occasional pub trip either - particularly after training away in another Dojo, or for a Christmas get together. Members and friends from Selby, York and Haxby clubs come together most festive holidays for a few pints and some seasonal cheer.